Christmas episodes are wonderful, but ever noticed how they all end up following a certain formula. A group of friends try to celebrate Christmas, but inexplicably, one of them has the gall to not like Christmas! Can they cheer each other up ? Spoilers: They always do.
Surprisingly enough, in all the anime I've watched over the 3 years of anime I've been watching, only one series has stood out to me by being different.
Let's talk about SAO, shall we?
I will always stand by the fact that SAO's should have STAYED in SAO the game. There were so many avenues to explore before prancing off to other VR titles to make a quick buck off of seasonal waifus.
Once upon a time, SAO was a legitimately good show, or at least, it was my idea of what a good show was. Unfortunately, everything after Episode 11 has been 99% plot contrivances because the series suddenly felt it need a big, unearned arc.
The reason why I think this is mostly out of love for the first 11-ish episodes of world building that SAO established. It was dark, gritty but at the same time, fantastical and fun. There was so much potential untapped here that I can't help but be disappointed when I finished the first season of SAO.
Specifically, Episode 3, The Red-Nosed Reindeer.
Most Christmas episodes are ultimately about celebrating the holidays. SAO decides to tell us a story about grieving the death of friends and survivor's guilt during said holidays. What happens to somebody who has no friends to give him any grand gestures of holiday spirit to distract him from his sadness?
For a quick recount:
Kirito joins the Black Cats and hides his power level so as not to intimidate them. The Black Cats are all very inexperienced, and most of them are just normal teenagers. We get happy funtimes for a bit that almost trick me into thinking it's a Christmas episode. We even get some surprisingly deep conversations about depression and anger towards how unfair this world was to people who just wanted to play it with friends.
Then this happens.
And then THIS happens-
Ironically, the grief he goes through here is the closest Kirito has actually gotten to being like another certain black swordsman in anime.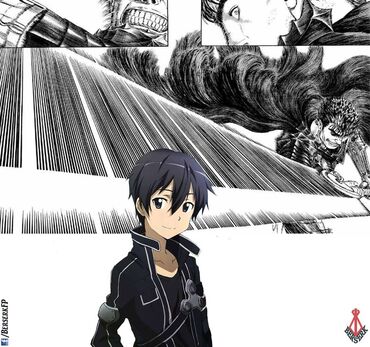 After that flashback, Kirito finds out that there's an item that can resurrect dead players, and goes to solo the raid boss for it. When he gets it, it's revealed that the item can only resurrect dead players within 10 seconds of the fatal blow. Obviously, the item's only function was preventing the device from zapping the brains of it's user. There was never an item that could bring back the Black Cats.
Kirito has to live with that.
I make no secret of the fact that I hate what SAO became post-Aincrad. It's mostly because I held this episode in such high esteem for making the monumental task of making me feel anything for Kirito actually work. The genuine guilt and shame for the severity of his inaction in this episode has not been repeated since, despite the arguably larger stakes that happen later in the series.
I would even argue that this is the first time Kirito does something insanely badass to "save" somebody and gets nothing out of it. This is the first time Kirito actually has to deal with consequences of his actions.
I love how somber of an episode it is. It's not drama for drama's sake either, because it also progresses the narrative of the world. It shows us what happens to the players who never treated the world's threat seriously, or to the players who were never really "gamers" in the first place and just wanted to survive, but lacked the strength of will to do so.
It's arguably my favorite episode of the entire series just for actually dealing with the horror aspect of the anime, and less on "OMG, KIRITO IS SO COOL AND EDGY OP".
It's a great Christmas episode in the sense that we still get a heartwarming but bittersweet closure for Kirito at the end. Sachi never held anything against Kirito.
In truth, she was thankful for the help. It didn't take a grand gesture to ease Kirito's pain.
He only needed three words.
Seeing as we never see Kirito be emotional past angst at this point, genuine sadness was a great emotion to add to his repertoire.
In retrospect, this episode was when Kirito's start to lightness (is that word) began. He started being more openly helpful to people and trying to make genuine connections with them. Granted, the story kind of spoils the story by making all the people he helps be romantically attracted to him because anime, but I liked seeing his character gradually change.
Until he meets Asuna after a timeskip, but that's enough ranting about SAO today.