What's Kengan Asura?
From TVtropes:
When Kazuo Yamashita, a 56 year old underachieving salesman, stumbles across the mysterious young Ohma Tokita easily taking down a formidable looking muscle fortress, his world gets set to be turned on its head.
The following day Kazuo is summoned by the Nogi Group's CEO, Hideki Nogi, who introduces him to the world of the Kengan matches, a place where wealthy business owners, corporation leaders and merchants hire gladiators to fight in unarmed combat where the winner takes all. With Kazuo being reacquainted with Ohma, the latter of whom has become the Nogi Group's latest fighter, the two's journey into the Kengan world begins.
Kengan Asura is a manga series written by Yabako Sandrovich and drawn by Daromeon,beginning publication in 2012 it runs in Ura Sunday, a Shounen Magazine, published by Shogakukan.
The Essence of Fighting
As you read in the above summary, Kengan Asura is literally TOURNAMENT ARC: THE MANGA. This focus on one-on-one battles in a roster for basically it's entire run is a great way to not only have entertainingly gut-wrenching fights, but also to develop a large cast of characters and give them all ample amounts of time in the spotlight for character development. Kengan Asura's biggest strength lies in its simplicity. While there are hints of a more overarching plot, the main focus is the conflict between two fighters, how their styles of fighting compliment or counter each other, and their motivations for winning the tournament.
As befitting a shounen fighting manga, everybody else around the protagonist fighter is way more interesting and insane. Not to say Ohma is an uninteresting protagonist, but half the fun of tournament arcs is finding out the different styles of fighting that the characters use. From Baritsu, the famed fighting style of Sir Arthur Conan Doyle's Sherlock Holmes done by a Japanese-British priest-
Strong Style Pro Wrestling, a full-contact form of Japanese pro wrestling-
A Somalian mercenary whose fighting "style" is basically "whatever keeps me alive"-
-And many, MANY, more!
Inspired by Baki?
From what I've said so far, the first thing that most people will compare it to is, as my title says, Baki The Grappler.
While there are definite similarities in tone and insanity, there are three key differences. Note that these are my opinion, and why I dislike something could just as easily be something you yourself can enjoy.
Kengan Asura Is A LOT more grounded
While Kengan Asura has its fair share of insane fights and bro-science fighting, what with people redirecting bullets and cracking walls with their bare hands, it doesn't reach "Caveman from a thousand years ago who fights dinosaurs called Pickle" or "Man with back muscles so large and toned they form a demon's face". I enjoy insanity, but the fighting in Kengan Asura just has that touch of real-life technique that makes it a lot more palatable and less "shouneny".

Kengan Ashura's art is way more realistic
Meanwhile, Kengan Asura is a lot better proportioned. I've always found Baki the Grappler to be a bit gross. It's a stylistic choice, and I understand the appeal, because the fights in Baki are awesome, but Kengan Asura doesn't make me want to recoil in disgust while reading (unless it wants me to).
Kengan Asura has actual character development!
Baki the Grappler is a fighting manga first, character manga not really. Nobody REALLY changes much since the beginning of the story. Past their introductions and unique backgrounds, they never really grow as people. A lot of them continue to fight and be all-around pretty bad guys who just want to fight other bad guys. Fighting is not a plot device, it IS the plot. That isn't to say there's no changes, just that these changes are always in service of more fighting, not character growth.
Meanwhile, Kengan Asura actually uses the fighting as a vehicle for an overarching plot. Yes, MOST of it is fighting, and their motivations are fueled by it, but their personalities and backgrounds are by and large way more sympathetic than the psychopaths from Baki. I actually care about most of the fighters and have a hard time cheering on who to win during a match. They all have their own reasons and ideologies, and it's hard to gauge who deserves to win more. Having an actual stake in the fights makes Kengan Asura a way more compelling read if you like character writing, as every fist thrown is another bullet point in that character's growth.
The Amazing Art
The artist, Doraemon (not to be confused with that Doraemon), is 75% of the reason why I enjoy reading this manga. All the characters are striking and unique, with a huge variety of physiques, and we get to see all those physiques beating the crap out of each other.
Doraemon usually goes out with Sandorovich (the main writer) to watch actual matches depending on the combat sport they'll be focusing on in a given arc. This gives the stances and strikes drawn in the manga that touch of realism, and making them feel like they have actual weight and impact.
In turn, this makes the fights that much more brutal, because every hit is shown in bloody detail. Every cracked bone, every torn muscle, almost nothing is left to the imagination.
The art is beautiful in its brutality for this reason.
Also-
The Characters
There's simply WAY too many characters to talk about here, so I'll just be general and cite a few examples of some of my favorite characters.
First off, despite the fanservice, all the women in this manga are actually strong female characters in their own right. Obviously, most of them aren't gonna be trading blows with seasoned fighters, but their strength is embodied in different ways. There are plenty of female CEOs participating their fighters in the Kengan tournament for example, and all of them got to their positions with the sweat of their brow, and sometimes the blood of their enemies, both in the corporate sense and literal sense.
As for fanservice, both genders get plenty of eye candy. To my glee.
Secondly, all the fighters have their own quirks and some even have great chemistry together. It's not rare to see "those two characters" always together talking about the fight, or just hanging out in-between matches. The omake at the end of each volume, or the chapters in-between fights, usually show us the characters hanging out even after beating the crap out of each other. At the end of the day, a fight is a fight, but that doesn't mean they can't share a drink or two after.
Finally, their backstories are all developed, and some of them are so interesting I HAVE to talk about them.
To save time, I'll only be talking about two of my favorite fighters from this series. First, Inaba Ryo-
The guy version of every ghost girl in every Japanese horror movie ever, Inaba Ryo is a terrifying fighter, who while much more lithe and small than the competition, is just as dangerous.
You see, that hair isn't just for show. That's his weapon.
While the Kengan tournaments ban the use of actual weapons, Ryo's hair does not count as one because it has been cultivated through generations of his assassin family to be as strong as steel. It's technically a part of his body, meaning fighting him is like fighting a human garrote wire.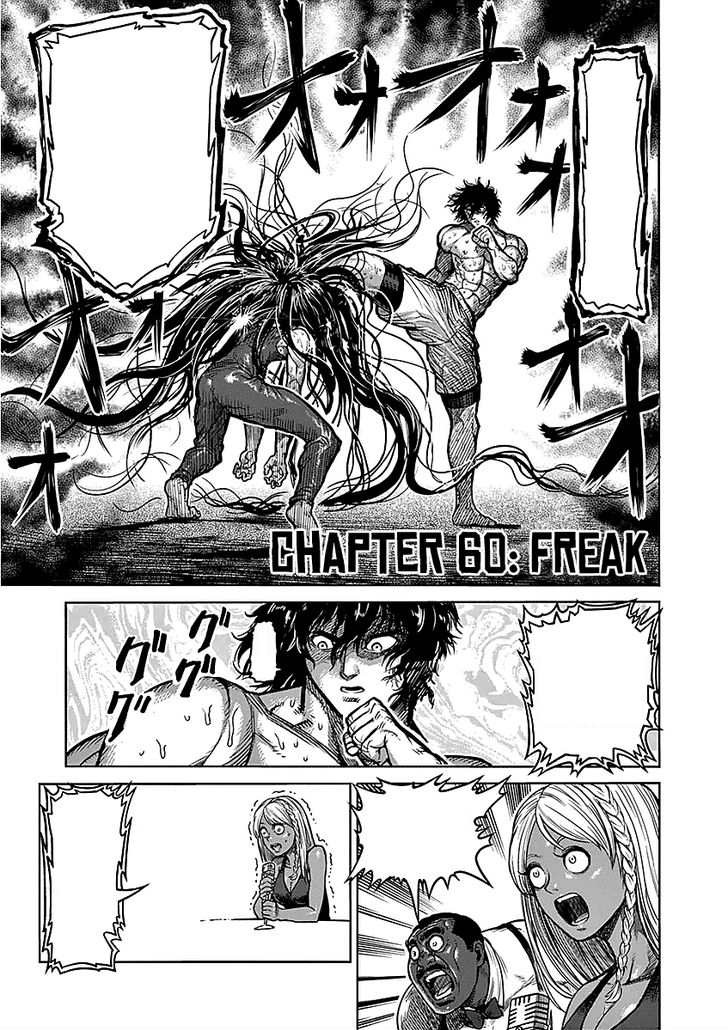 So, what does the creepy-looking assassin with long Sadako hair act like?
He's a socially awkward dork. He's a highly dangerous and skilled fighter, but if you take the time to talk to him, he's actually quite friendly (and handsome). His relationship with the CEO that sponsors him is one of "childhood friend", and yes, I ship them super hard.
Also, he's cute as hell!
On the other side of the spectrum, we have Sekibayashi Jun.
Where Inaba Ryo is a small, bishounen assassin who is socially awkward, Sekibayashi Jun is a loud and proud pro wrestler, whose style is all about being in-your-face and "building heat" for the crowd. He's not just here to win, but to entertain!
His style is pro wrestling, and the style includes copious amounts of H A M!
Seriously, despite the fact that most of the other fighters are taking the fights semi-seriously, Sekibayashi Jun acts as if the whole thing is still scripted. His style incorporates taunts and psychological attacks, and he's extremely good at pushing people's buttons.
Just see what he does in his fight against a sumo wrestler-
Of course, that doesn't mean he's not fighting seriously. He's a big guy who uses his massiveness to his advantage. Hand chops, elbows, and of course grabs and throws, Sekibayashi is the ultimate pro wrestler.
Lastly, he NEVER dodges. He will take all hits, because as a pro wrestler, he will never fail a "spot check", so that the audience truly believes he is taking punishment.
His insane dedication to the craft of pro wrestling exemplifies one the reasons why I love the fights in this manga. It's not simply a fight to see who is stronger, it is a fight to see whose ideals, beliefs, and fighting style will win out. It is a clash of two different people's resolve, their natural talent, their intelligence, their strength, and most importantly, the drive to win.
Also, to show off their heaving muscles.
Conclusion
Kengan Asura is a fantastic fighting manga that showcases the essence of fighting, with a great cast of characters with good chemistry with one another. The art is brutal in its beauty, the fights are insane without feeling contrived, and with the upcoming Netflix adaptation later this year, I hope more people read this!
That's it for today! What did you think of my short review? Is Inaba Ryo pure husbando material? Leave your comments below!