Well, it's definitely been a ride with ups and downs, but happy first anniversary to my blog! I'm not sure if I have anything in particular I want to celebrate since I already did that during my new year post.
For now, I just wanna thank you guys for keeping up with my blog throughout the entire year. I've met a community that I can share my thoughts with, as well as have discussions with on their own blogs.
Needless to say, I have more rants to share with you guys this year, and with the absolute banger that has been this current anime season, I can't wait to share my thoughts on all of it. Yes, I ACTUALLY watched shows from this season this time around, I'm as excited as you are.
I'm not one to just do an update post for an anniversary, so I'll also share my thoughts on the shows of this season so far.
Kaguya-sama: Love Is War
I'm actually surprised at the amount of divisiveness this show has caused in the blogging side of things. Seems a lot of people are highly critical of the repetitive and formulaic nature of the show, the overbearing narrator, and overall perceived lack of progress.
As a manga reader, I FULLY understand the first few chapters will feel like this. While I like them just fine, I admit the reason I, and several others were hyped about this series, is because of how great the manga has been for the past year. It's no question that this is gonna be an anime that ages like wine. Sure, it's expired grape juice now, but wait an arc or two and you'll have yourself one of the best character ensemble comedies and romance I've seen in recent years.
As for the anime itself, I believe my feelings for it can be summarized by this gif.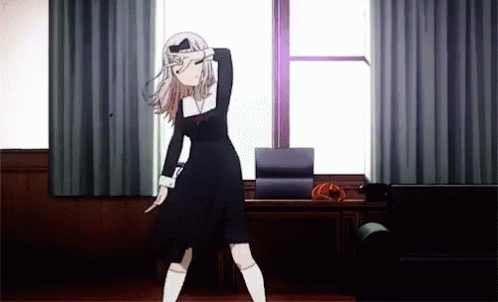 Gotoubun no Hanayame
Gotoubun has been a fantastic and faithful adaptation so far. I love the little original shots they add that aren't from the manga, such as this amazing bridal shot that symbolizes the mystery of who she is from the quintuplets.
While I am usually not a fan of harem manga, Gotoubun succeeds in one aspect that most harems seem to forget, and that's characterization and actual progress. This being a faithful adaptation, I have no reservations that this will end up as good as the source.
Every quintuplet is unique and fleshed out in some way, and the reasons for each for "liking" Futaarou is kept to reasonable levels. You can totally understand why they like him, and Fuutarou is not completely dense to their advances, but is sufficiently unaware of their feelings because the girls mostly do a good job of hiding it.

I'm excited to see people's reactions to some, ah, developments in the story that I really enjoyed.
Mob Psycho 100 S2
Mob Psycho 100 S2 picks up exactly where the first season leaves off, and it doesn't even feel like three years have passed since then and now. This season has shaped up to be equal or even superior to the first in many respects.
Let's hit two birds with one stone by discussing the OP's banger music and visuals.
I hear some of my friends say it's not as good as the first one, but they are wrong and they should be ashamed of themselves.
The sakuga is on point, as expected of Studio Bones, and MOB CHOIR returns with a song that is as catchy and energetic as the animation that accompanies it. The lyrics are also once again dealing with the recurring theme of this season, which is Mob dealing with the fact that he has no identity to call his own.
This season (so far) focuses less on any overarching arc or Monster OF THe Week shenanigans, and more on Mob's growth as a person. His blankness has become a concern to both him and others, and he is actively pursuing any path to rectify that.
I'm excited to see more of him this season!

And with that, here's to another year! See you guys again.